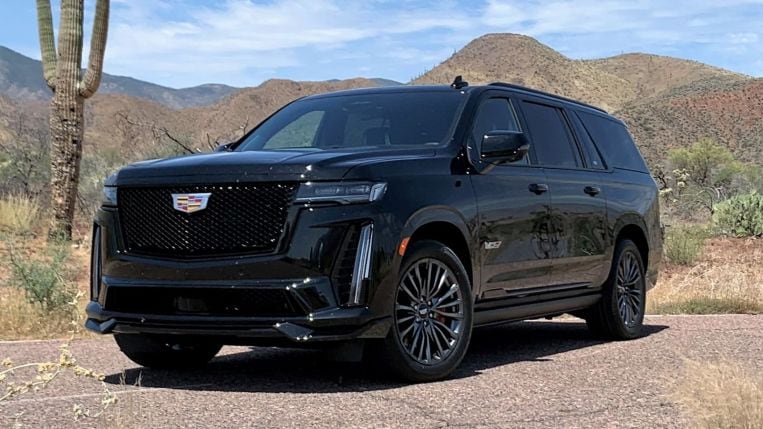 GM is trying new things, like an early retiree. Just days ago, a report emerged that the company plans to start a Corvette sub-brand, complete with Corvette sedans and Corvette SUVs. Now, Car and Driver claims the company wants to do the same with its Chevy Camaro and Cadillac Escalade.
Camaro Muscle Car, SUV, Sports Car
The Camaro brand, C&D reports, is "under evaluation."
It would include three cars borrowing styling from today's Camaro muscle car. C&D says "a fully electric 2+2-seater coupe and convertible" would be a successor to today's Camaro. But so would "a decidedly sporty crossover offered in two-door and four-door body styles, and a mid-price flagship sports car loosely linked to the C9 Corvette in content but not in appearance."
All three would be electric cars.
Escalades of Less-Than-Escalade Size
The giant Cadillac Escalade SUV, meanwhile, would get its own siblings. They include "a smaller version of the Escalade" and perhaps a more car-like crossover SUV wearing the Escalade name.
A source tells Car and Driver that GM considered "reinventing the Cadillac brand one more time" before settling on spinning off the Escalade into its own lineup instead.
C&D doesn't address whether the Escalade stable would be electrified or traditional gas-powered vehicles.
Isn't This the Company That Needed a Bailout Because of Too Many Brands?
Each move sounds plausible enough on its own, but taken together, they worry us.
General Motors famously got itself into trouble in the early 2000s with an enormous watered-down lineup of cars that were hard to tell apart and sold under too many brands. The company wound up in Chapter 11 bankruptcy, propped up by a government bailout early in the Obama administration.
It got out of trouble by shuttering brands.
Badge Engineering, Electric Style
There's an old auto industry term we haven't used in a while that is threatening to come back into fashion. "Badge engineering" is a tongue-in-cheek term for taking a fully-designed vehicle, tweaking it lightly, putting a different brand badge on it, and selling it as a different car.
By the early 2000s, GM was perhaps badge engineering's worst offender.
The early electric car era threatens to bring the practice back. Manufacturers build electric cars on so-called "skateboard" platforms — nearly flat combinations of batteries, electric motors, steering, and suspension components that can be scaled up or down to build many different kinds of cars with the same parts.
That's how GM has managed to design everything from a $30,000 Chevrolet Equinox EV to a $300,000 Cadillac Celestiq super-luxe sedan in the past two years. They're all sitting on iterations of the same skateboard called Ultium.
It's an affordable way to design new cars. But someone needs to know when to stop to avoid saturating the market with look-alike, drive-alike cars and competing with yourself for the same buyers.
The world doesn't need another Oldsmobile Bravada. If you don't remember the Bravada, you understand our point.
What is the Chevy Blazer if not a midsize SUV with borrowed Camaro styling? So maybe it doesn't need to sit beside a midsize SUV with borrowed Camaro styling in the showroom.
Maybe Sub-brands Make This Different
Maybe GM can successfully pull off lots of sub-brands in a way it didn't pull off lots of brands. Presumably, calling them sub-brands doesn't mean building expensive new dealership networks to sell them.
But fundamentally, GM is discussing plans to build more and more cars in the same categories out of the same parts to market to the same people. You've seen this movie before. Let's hope they can pull it off or back out of it before it's more than a magazine-fueled rumor.