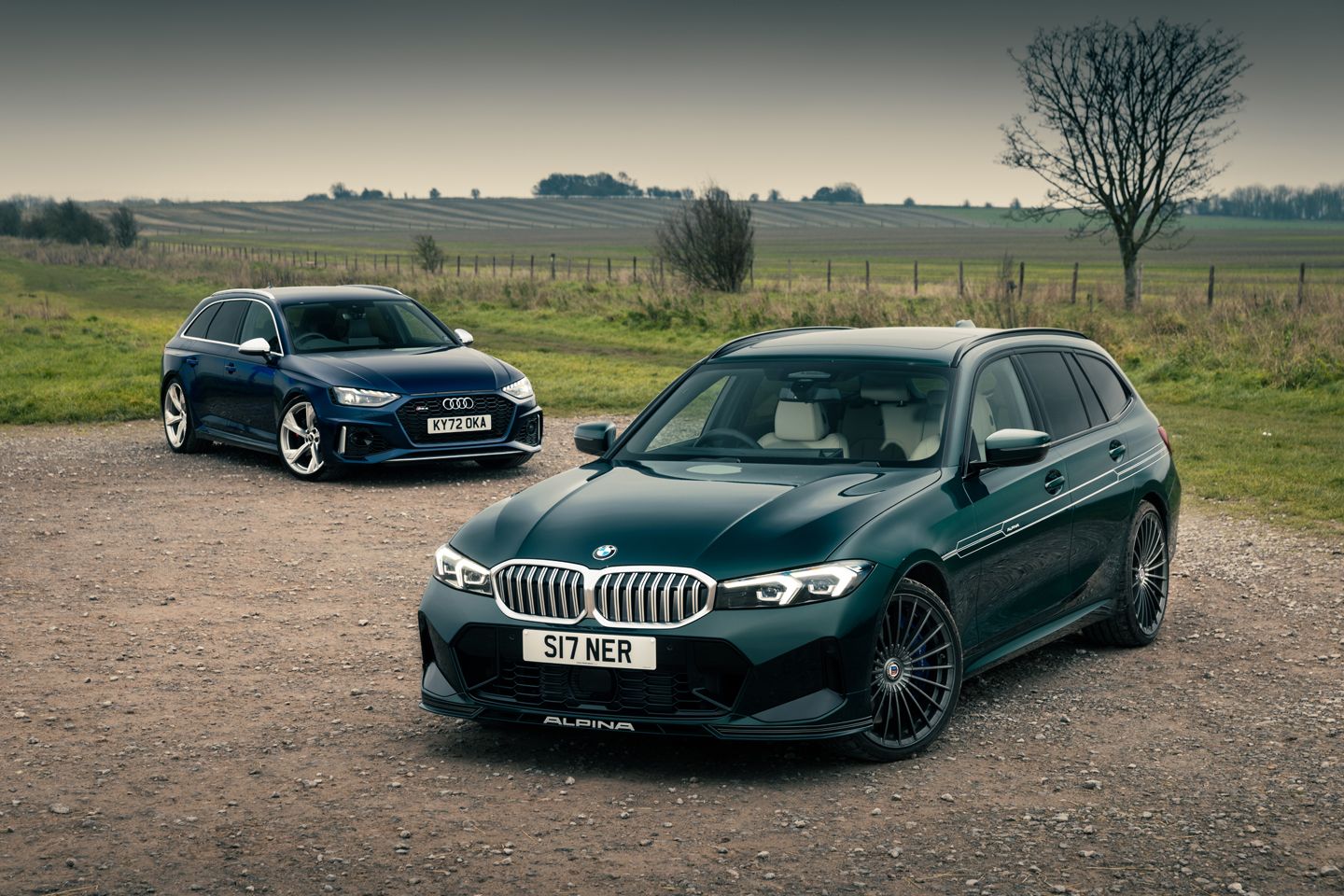 It's always an exciting time for fast estate fans, really, because it's still possible to buy a used Saab Aero for less than £5k and a V10 Audi Avant for less than £20k. But seldom has the new market looked quite so well stocked, an especially notable feat given the SUV's unassailable popularity. The all-new 680hp C63 is almost here, the BMW M3 Touring isn't be far behind, the RS4 Competition has shown Audi still knows what it's doing and VW's options list for the Golf R estate includes a diff that genuinely helps it oversteer. And if that weren't enough, Porsche has two Taycan estate models, including the possibility of a 760hp EV Allroad-style thing. The traditional fast estate formula, perhaps against expectations, enters 2023 in rude health.  
Plus, of course, Alpina continues to ply its trade, quietly yet tangibly making very good BMW Tourings even better still. It's been that way for decades now, sticker sets and all, to such an extent that it felt like impeccable Alpina wagons would be a constant of the automotive world for eternity, like blood-red Ferraris, rear-engined 911s and, um, the Ford Fiesta. But with Alpina destined to be swallowed up wholesale by BMW, the Buchloe 'bahnstormers as we know them will change. They must. And it's only the optimists that will assume it's for the better. Because how on earth can the current crop be improved upon? 
The keen will have already identified this Alpina B3 Touring as the very latest facelifted car, based on the recently updated G21 BMW 3 Series Touring. In some ways it's actually worse than before, with a fussier front end (if not the worst 3 Series nose out there), an interior that's done away with some buttons (but actually incorporates screens well) and a steering wheel seemingly even fatter than ever – so it feels like driving behind a beautifully upholstered and stitched rubber ring. Moreover, anyone who can manipulate digital displays to just show dials, and not readouts from a children's toy, will surely be very popular in the BMW tuning world.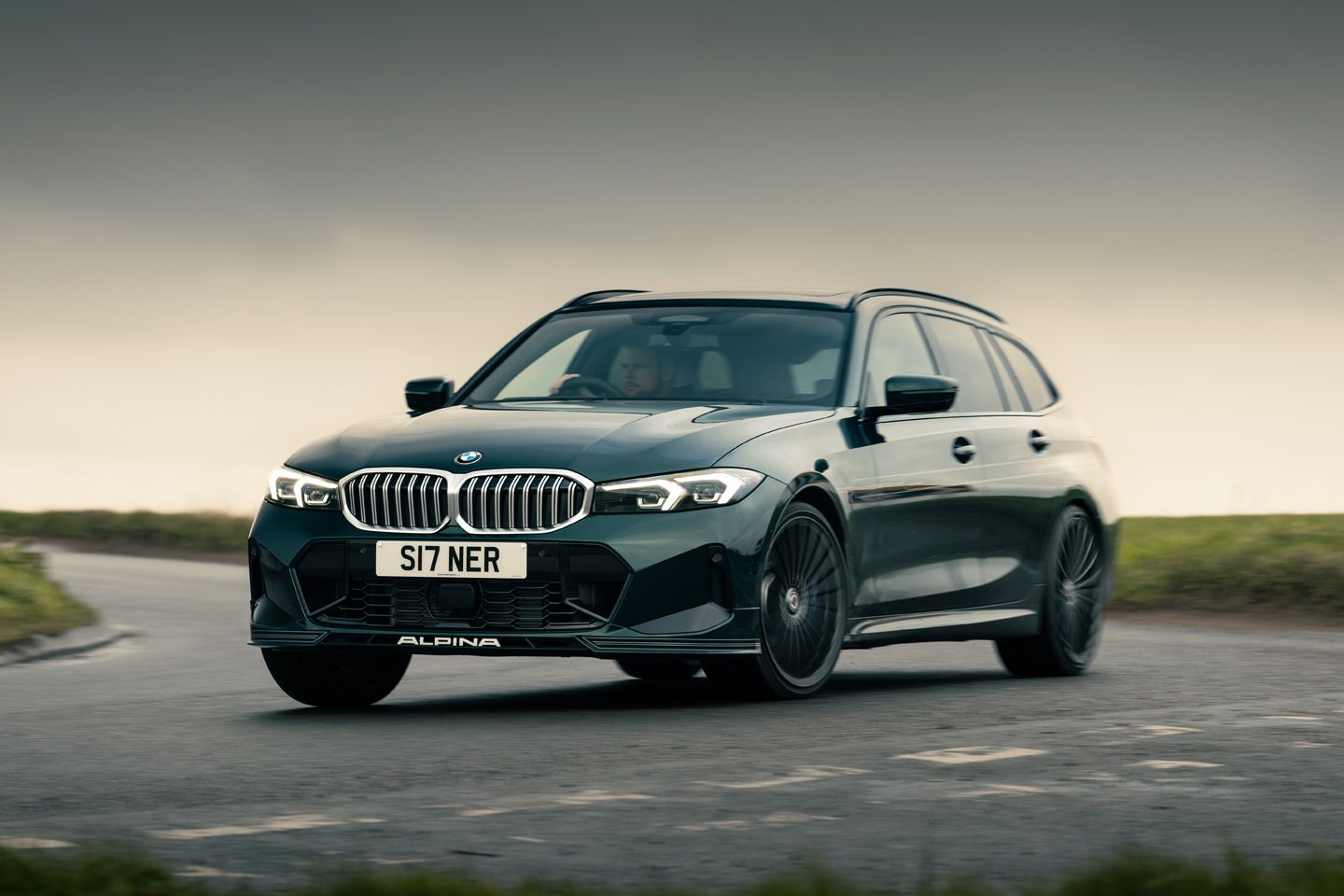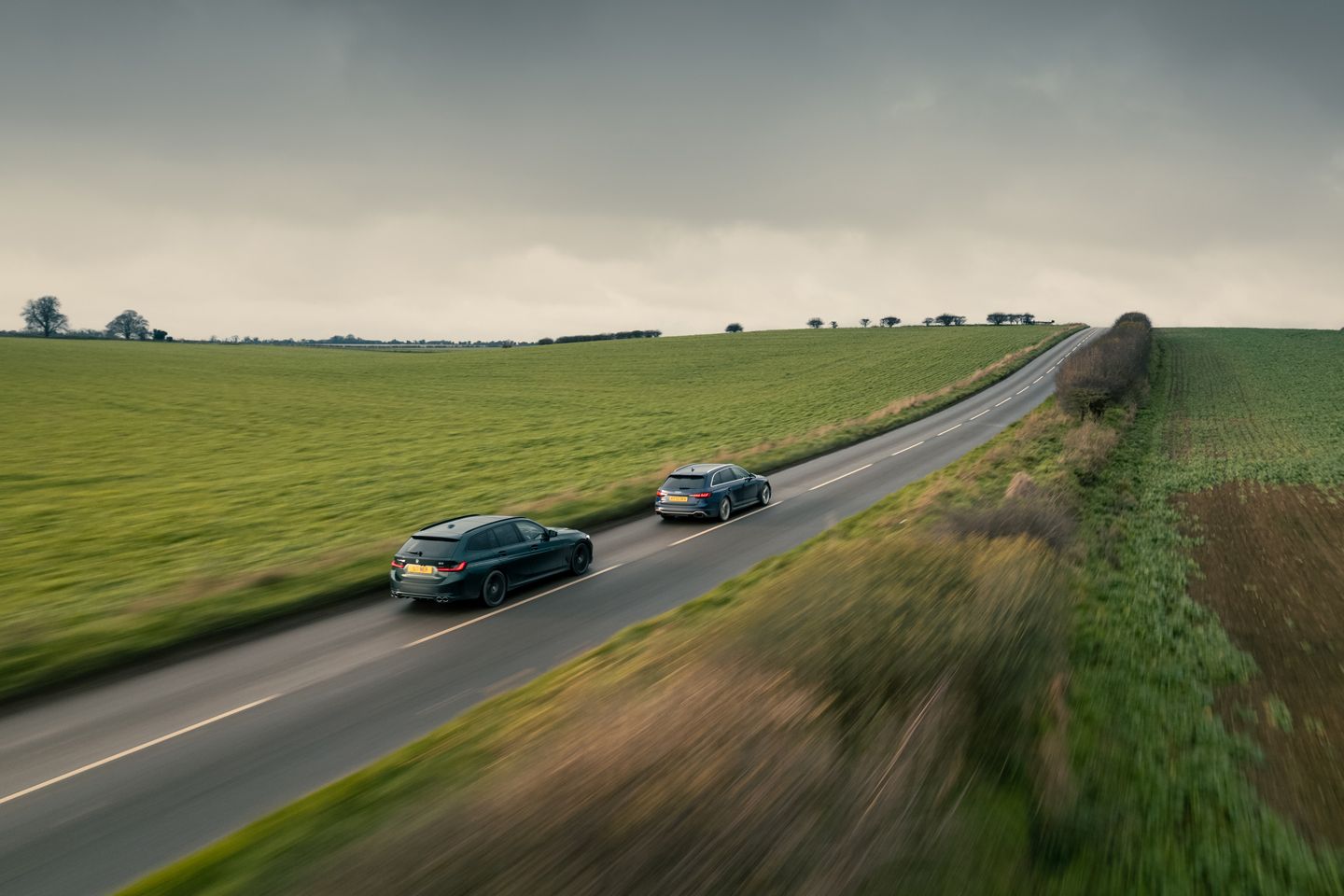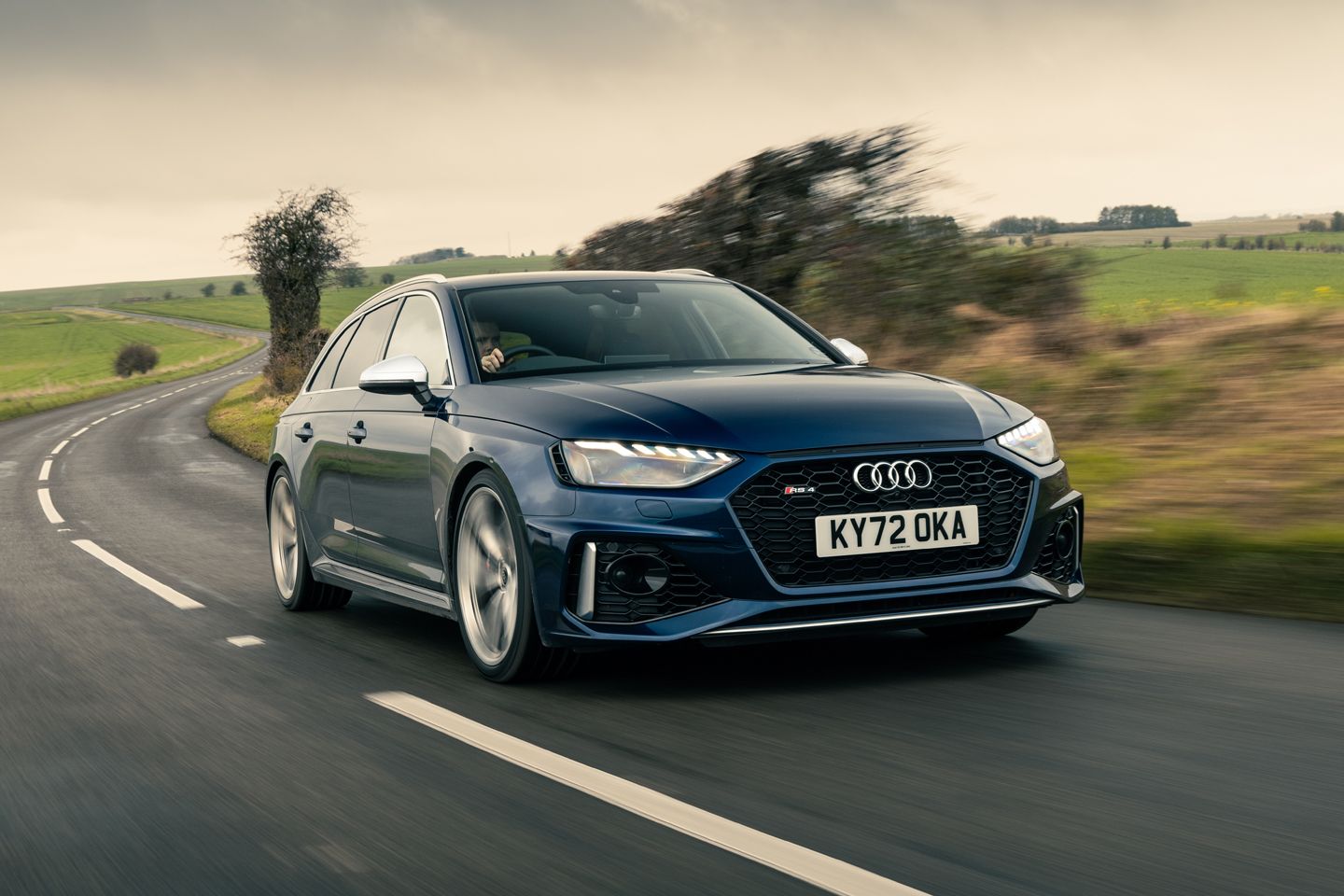 In truth, though, that's about as far as complaints go for the B3. And they're not exactly meaningful. With what must be a minuscule improvement from the pre-facelift model, the car remains a masterclass. It takes very little time behind that ridiculous steering wheel to wonder how a performance car could be any more complete, so broad and so captivating are its array of talents. The Alpina is as supple, assured, engaging and exciting to drive as you could ever reasonably expect an estate car to be, and perfectly malleable to your every request at any moment. Naturally, there are modes to enhance those attributes via the jazzy new screen, all the way from the Alpina-specific Comfort Plus – which is sumptuous – to Sport Plus. But none of them seeks to befuddle you with noise or overwrought stiffness, and if you don't feel inclined to select them, you don't need to – left in its default Comfort setting the B3 is accommodating of every whim and fit to burst with finesse. It'll cruise and corner with the best of them – and that's just the start. 
The 3.0-litre straight six was already a mighty unit – a bonafide M engine with Alpina's turbos – and it's even stronger for the newest B3, now rated at 495hp and 538lb ft – gains of 33hp and 22lb ft from before. Less power than an M3 but more torque plays to Alpina's strengths perfectly, of course, the performance as effortless as it is fierce. Short of the Taycan, nothing is going to go faster than this, with the added benefit of a suave six-cylinder soundtrack. Any accusations you might level at the M3's use of the eight-speed auto are less valid here because more often than not it seems a perfect match for the torque-rich delivery. A slight hesitancy shifting at 7,200rpm is almost immaterial because it happens so seldom. Everything about the Alpina is intended to feel harmonious; every aspect of it working in perfect sync with everything else. The powertrain is the perfect example of that. 
Don't mistake consummate ability for a deficit of character, either. The genius of xDrive is in full effect here, with abundant traction allied to the kind of throttle adjustability familiar to anyone who knows BMWs – and entirely alien to the more prescriptive RS4 we've brought along for comparison. The genius of Alpina is easy to detect, too, from the action of those lovely (optional) gearshift paddles to the immense brakes, and the way the bespoke Pirelli tyres deliver a perfect blend of turn in bite, grip, traction alongside the upgraded ride comfort. Instinct would suggest the 19-inch alternatives might deliver an even better compromise of ride and handling (and perhaps a slightly less overwheeled look) but the big rims are forged rather than cast and therefore lighter, so the assumption might not necessarily be true. Maybe it could be a touch more compliant at low speeds, though already that feels like nitpicking on a 190mph, near-1,900kg car. The way the Alpina blends poise and precision with leather-lined luxury is impressive enough as is. Leave the Sport steering alone (because it's too heavy) and just enjoy the ride. And the speed. And the sound.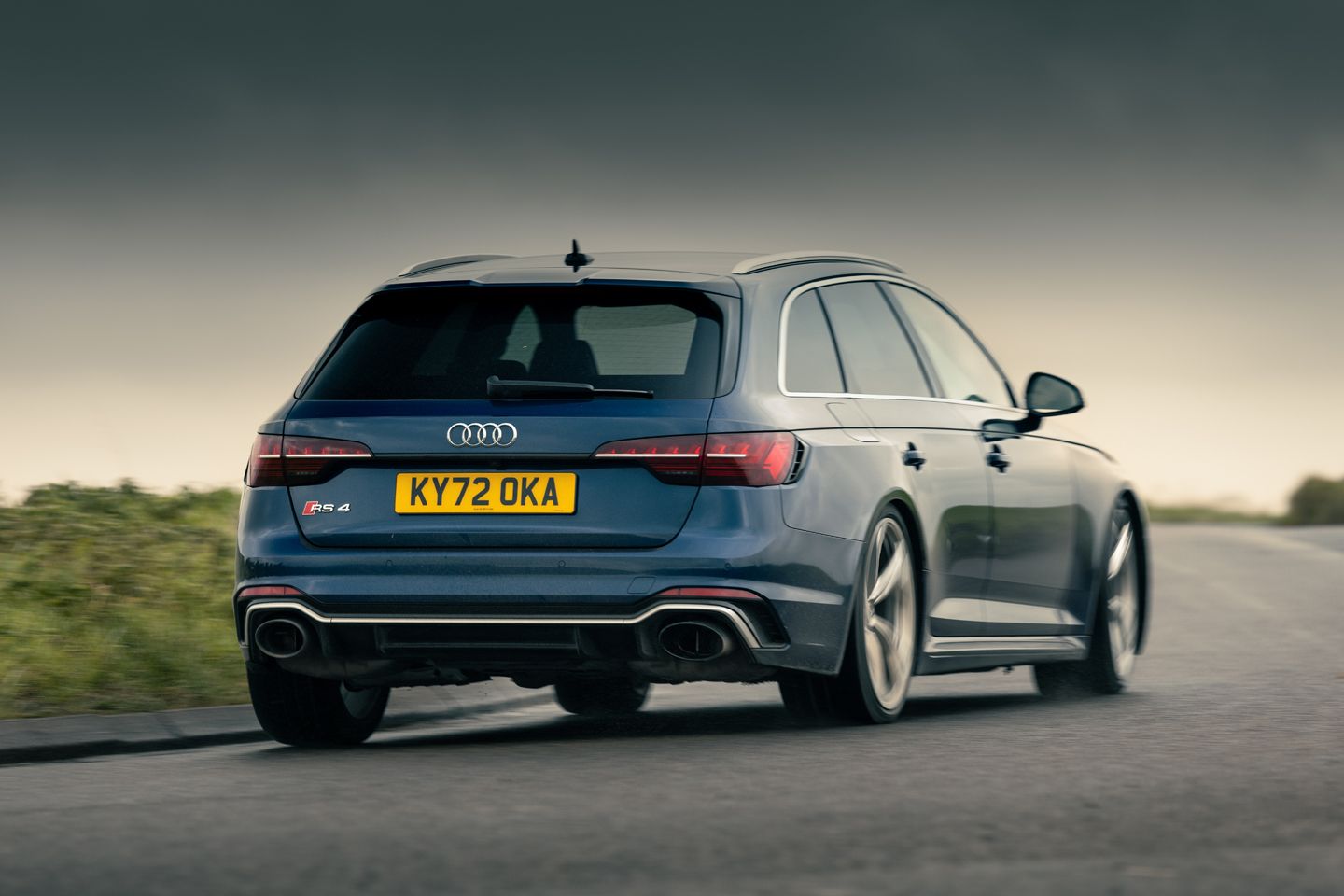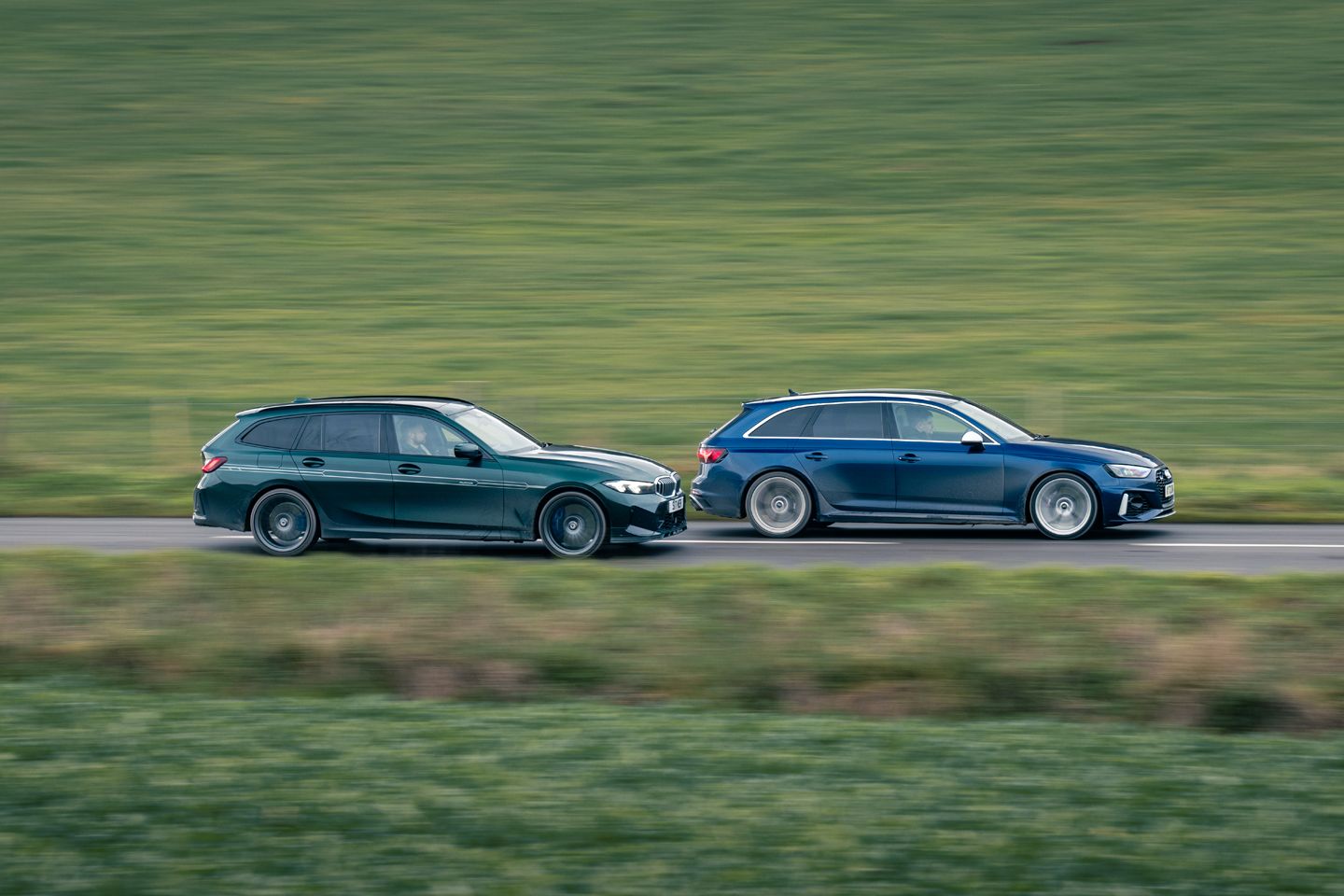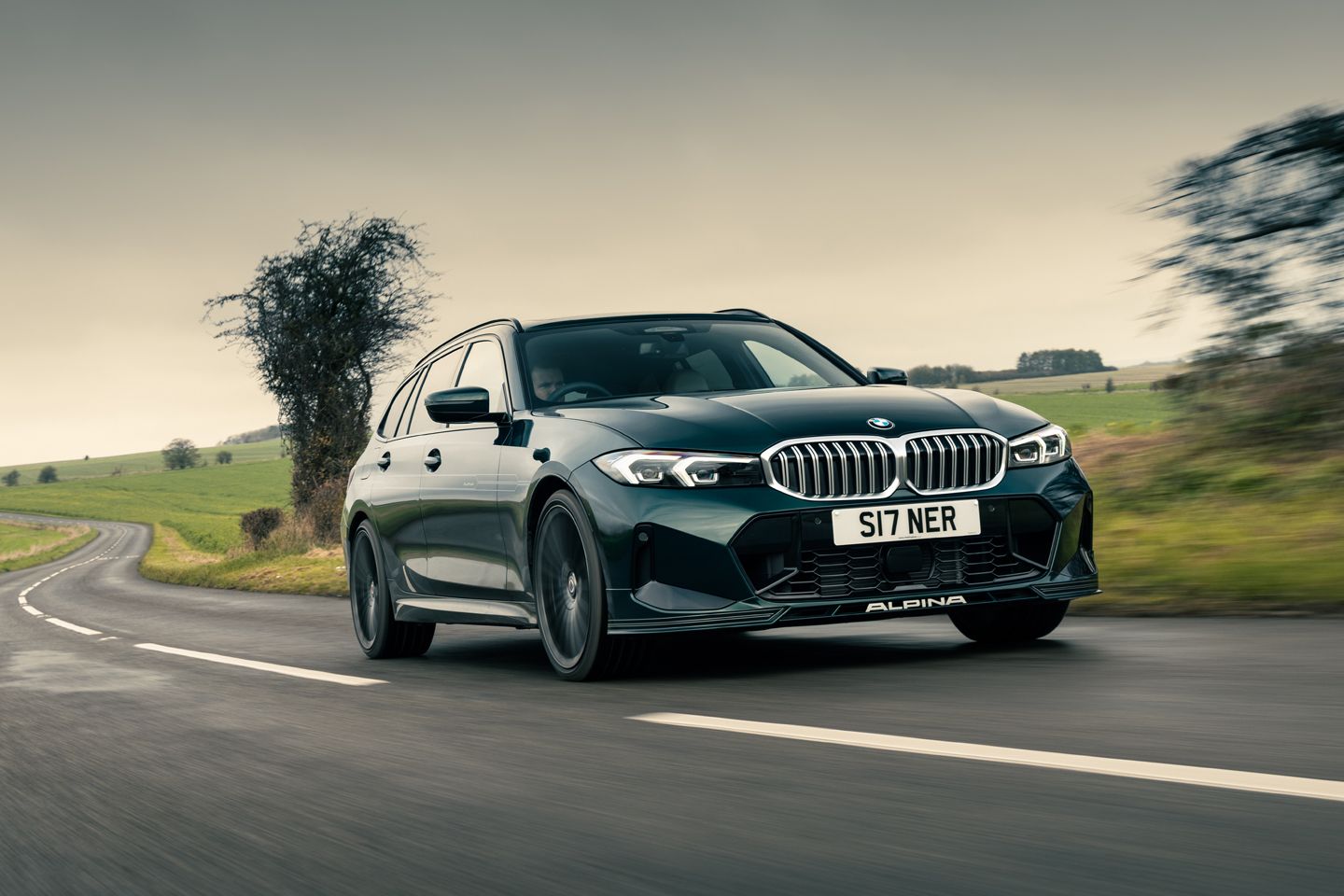 Following the latest B3 would be a tough ask for any car, even if it doesn't feel significantly more fabulous than before. In truth it's difficult to imagine what the M3 Touring will bring to the table as a package, beyond a predictable edge on circuit that'll be useful twice a year. Certainly, it's not a challenge the now venerable RS4 can rise to. Some will likely call foul play, given the model's time at bat – especially against a newer model which has just been treated to an additional round of updates – but there's no denying car's availability or its positioning. Granted there's a £10k starting price discrepancy in Audi's favour, but otherwise this is a valid duel. Just not an especially close one. 
At the very least, the RS4 still exudes a big-shoulder swagger. The styling is very colour-dependent, but you wouldn't be alone in thinking it easily trumps the 3 Series for handsomeness. It is also formidably brisk when in its element, and still quite capable of dispatching tricky, damp roads with something approaching nonchalance. To its credit, there are times when it absolutely feels +100kg lighter than the B3. But we'd argue a car of its lofty billing should offer more as an experience. Not only does the B3 serve to highlight its deficiencies, we know Audi has itself already worked to assuage them. Very recent experience of the run-out Competition model – albeit abroad – has proven beyond doubt that deeper driver reward is not a foreign concept. It's just a shame that so few customers in the UK will ever get into the current RS4 variant that unlocks all the hidden potential. 
Instead, with memories of the Comp still fresh, the regular RS4 feels ordinary. Where the uprated car was willing, communicative, and agile thanks to its expensive suspension and detailed steering tweaks, a standard model on passive dampers is detached and disinterested, neither as comfortable nor as commanding as an RS car really should be. The B3 will up its game as you do, always syncing with a higher commitment level; the RS4, meanwhile, just goes quicker. The kindest way to describe it – and likely the footnote in its initial development – is 'no-fuss'. But by discouraging any extra effort from its driver, it has nothing to give beyond a detached, business-like approach to everything. The B3 is three times as interesting, often at half the pace.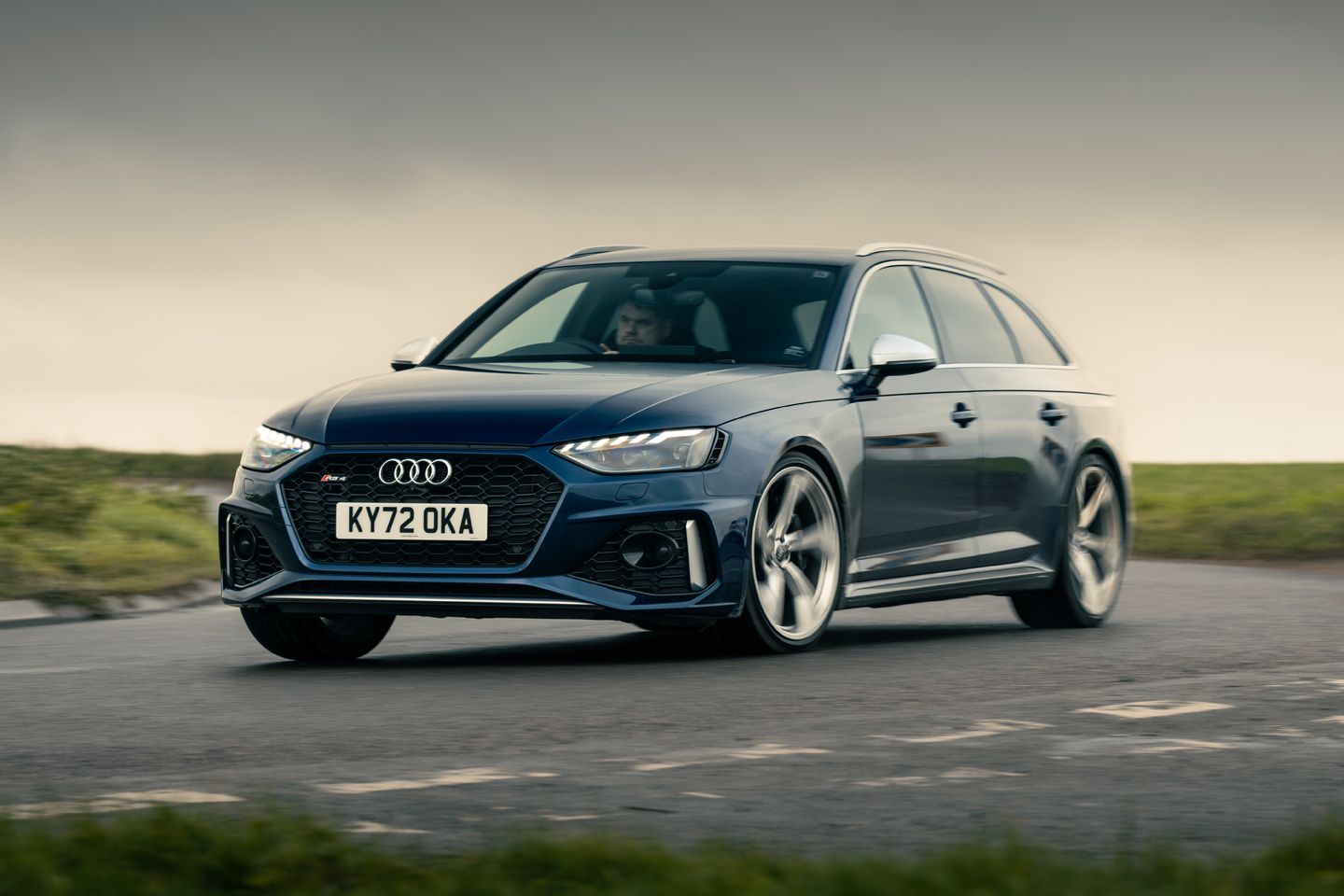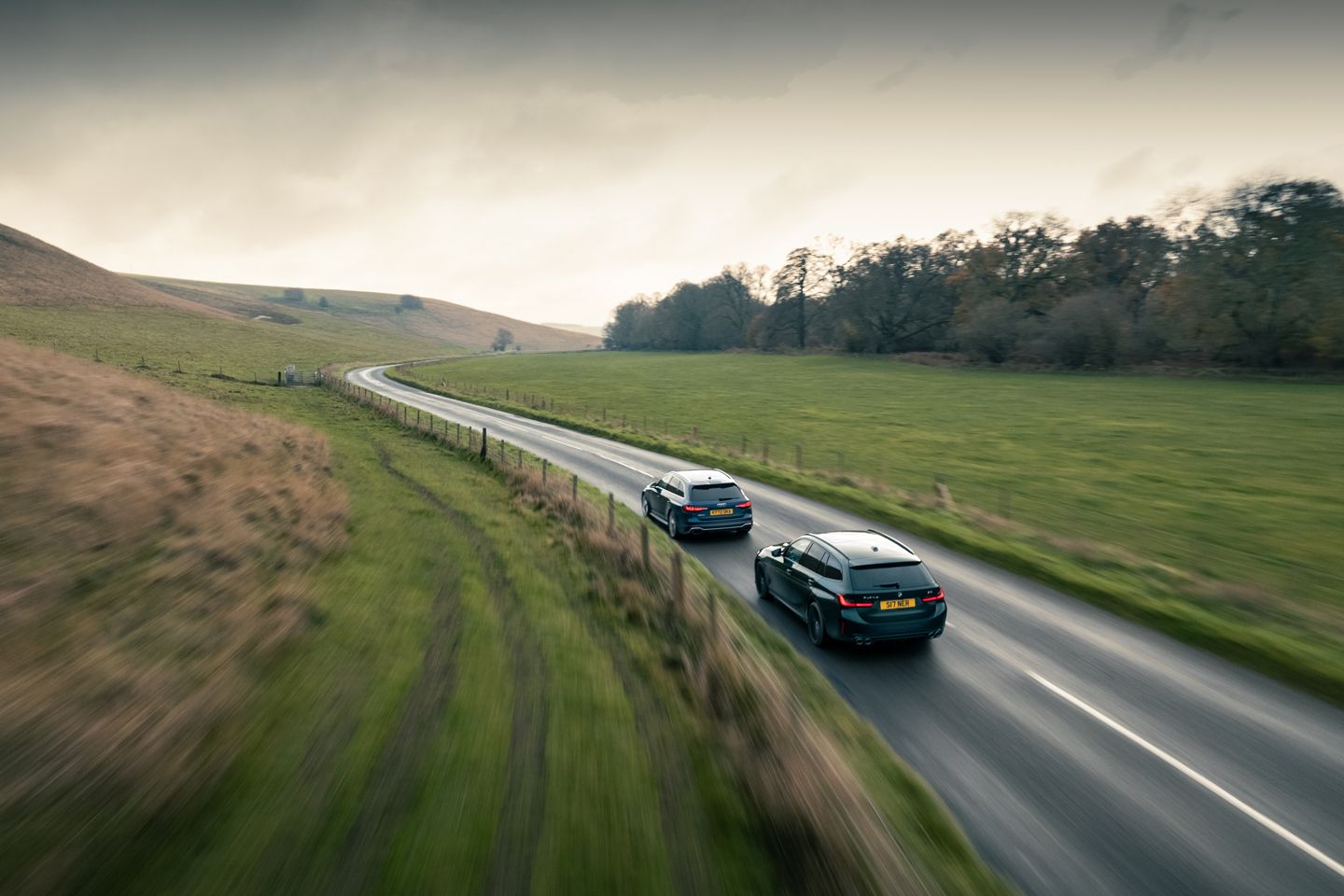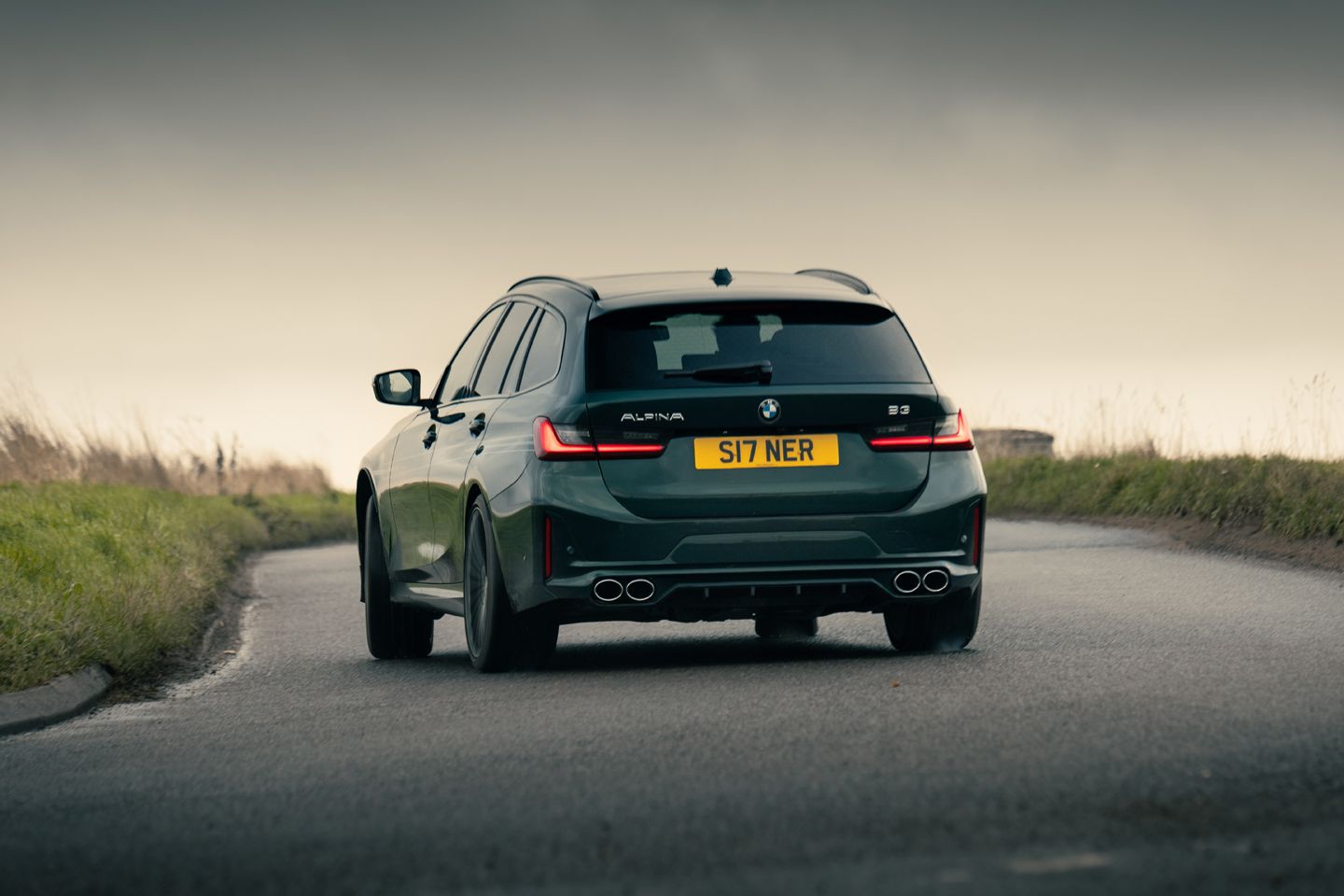 Of course, there's something to be said for all-weather traction and ease of use, especially when it's been assembled by the master of clever packaging. The RS4 might be significantly older than the B3 inside, but that just means it has retained some handy climate switchgear – not to mention a sensible instrument cluster. It's hard to feel shortchanged by your surroundings, nor the image it conveys, which is one of the reasons why there are many, many more RS4s on the road than Alpinas (and most probably AMG C63s, too). The fact that many buyers aren't expecting or pursuing driving perfection in their family estate is another. But what the Alpina emphatically proves – and the RS4 Competition hinted at to a slightly lesser extent – is that driver thrills and year-round usability need not be mutually exclusive traits. You can have a car that's a joy to drive solo as well as dutifully carry passengers in 365 days a year, not choose between them. And who wouldn't want that? 
Audi's own success at finding a more invigorating identity for the RS4 has inevitably magnified the limitations of the standard version. Ultimately, its one-dimensional approach to fast driving makes it hard to justify over an S4, let alone the Alpina. The manufacturer has already returned to the drawing board when it comes to the model's replacement, and the recent activities of Audi Sport suggest that it well understands what will be required to go head-to-head with the super-fast four-cylinder C63 and M3 Touring – but for now there's not enough here to threaten the B3, not if it were £30k cheaper. 
This is convenient because it turns out Alpina's test car comes perilously close to £100,000, with options added. It says much of the B3's star quality, though, that the cost isn't out of kilter with the experience. If anything it feels better value than the Audi at more money, such is its overarching brilliance. In truth, unless additional space is a non-negotiable requirement, the Alpina even makes larger, more expensive estates like the RS6 and E63 seem OTT. It matches those cars for performance and sense of occasion, while also offering its driver a near-flawless blend of power and dynamic persuasion. Make no mistake, even among a very impressive fast estate crop, it stands emphatically apart. The very best Alpinas really do seem to have been saved until last.  
SPECIFICATION | ALPINA B3 TOURING
Engine: 2,993cc, twin-turbocharged straight sixTransmission: 8-speed auto, all-wheel drivePower (hp): 495@5,000-7,000rpmTorque (lb ft): 538@2,500-4,500rpm0-62mph: 3.7 secondsTop speed: 188 mphWeight: 1,880kgCO2: 229g/kmMPG: 28Price: £79,000 
SPECIFICATION | AUDI RS4 AVANT
Engine: 2,894cc, biturbo V6Transmission: 8-speed automatic, permanent all-wheel drivePower (hp): 450@5,700-6,700rpmTorque (lb ft): 443@1,900-5,000rpm0-62mph: 4.1secTop speed: 155mph (optional 174mph)Weight: 1,745kgMPG: 29.1CO2: 211g/kmPrice: £67,465